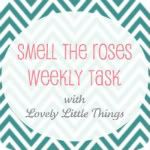 Today I am linking up with Jessica at Lovely Little Things for Smell the Roses! Her task for last week was to write a list of 5 things that you love about yourself. Here goes nothing....
1. I love me because... I am POSITIVE. Almost all the time. It's sickening to some, I think.
2. I love me because... I care. A lot. About EVERYTHING. If I had the money I would sponsor ALL the children. And dogs. And monkeys. You get the picture.
3. I love me because... I know I am most beautiful in sweat pants and no make-up. Thank-you to Hubby for helping me accept that :)
4. I love me because... I make up words. Like slidey (slippery, really). Because sometimes life is difficult and boring and new words make it fun.
5. I love me because... I am me and not a paper clipped copy of my friends or celebrities. I don't care if yellow shirts are in style. Mine is green. Deal with it.
(insert picture of myself, that I need to quickly upload to laptop, here)
Whew! It's more difficult than it seems!
I hope your day is full of love and laughter! Don't forget to take some time to smell the roses!